More than 40 members turn out for SIFF film
We had an amazing turnout for the 43rd annual Seattle International Film Festival where the SPSCA-sponsored film, "The Truth About Love Is..." was very well-received. More than 40 of our members joined us for drinks and snacks at Triumph Bar on Sat., June 3, followed by the screening at the SIFF Uptown Cinema.
Still jet-lagged from his flight from Milan, Italian director Max Croci joined us at Triumph Bar before the film screening. At the theatre, Croci welcomed movie-goers at the beginning of the film and then spent about 20 minutes after the film answering questions. He began in advertising before switching to cinema, and has directed more than 20 short films.This is his third feature film in as many years.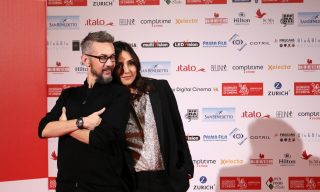 "The Truth About Love Is..." is a very snappy light comedy that follows the life of a multitasking mother Dora as she tries to juggle a job and two children after breaking up with her boyfriend of seven years Davide. As Croci explained, the film is based on the true story of a blogger, Enrica Tesio, who worked through her grief after a relationship break-up by blogging about it. Tesio turned the blog into a book and producer Guglielmo Marchetti optioned it for a film. The film does not yet have a US distributor.
SIFF's film festival, the largest in North America, runs through June 11.