Arriverderci to Paolo Lattaioli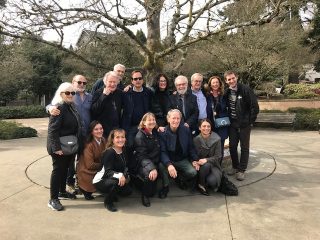 More than two dozen people gathered around Piazza Perugia at Julia Lee's Park in Seattle's Madison Valley to hear the words of esteemed architect Paolo Lattaoli. Over pastries and coffee from nearby Essential Baking Company, the attendees listened eagerly as Lattaoli spoke. Translated by Honorary Consul of Italy in Seattle and Perugia native Elisabetta Valentini, Paolo Lattaoli's melodic speech was pithy but profound: he shared with us his belief that piazzas give us something far more than simply aesthetic enjoyment, but also a sense of camaraderie and community.
He was also sure to mention how much he enjoyed exploring Seattle and the kindness he was shown in the two weeks he spent here. He informed the crowd that this was his first trip to Perugia's sister city, but we have a feeling that it will not be his last—let's hope the weather is just as beautiful next time as it was for this occasion! Sadly, he departed March 17 to return to Italy, but his visit here is something that SPSCA and its supporters will not soon forget.
Board member Mike James concluded with some parting words, including a call for ideas on how we might utilize this space more often to gather together. Hopefully, as we come up suggestions, this will not only give us even more opportunities to enjoy ourselves but we will also be honoring the words of Paolo Lattaoli in the process.
Thanks to Danielle Hayden for this post.
Editor's note: To read more about the origin of Lattaoli's trip, click here for "A Story of Adventures and Partnerships" from the Civita Institute newsletter.