De Poi artist Lynne Hobaica features her work in Perugia
Seattle ceramist Lynne Hobaica is winding up her three-week residency in Perugia as the 2018 De Poi Award recipient. She is the third artist to participate in the exchange program.
A presentation and discussion of her work will held June 11 in Perugia at the library of the Accademia delle Belle Arti (Academy of Fine Arts). We thank our many partners in Perugia who hosting Hobaica during her residency. Partners include the Academy of Fine Arts, Perugia-Seattle sister city association, City of Perugia, Antica Deruta and Chiara De Poi.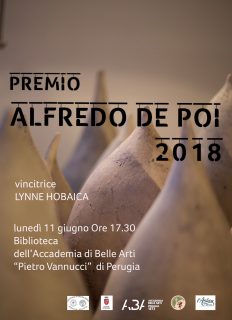 The De Poi Award brings together artists from Seattle's Pottery Northwest, the region's premier pottery facility, with artists selected by the Accademia delle Belle Arti (Academy of Fine Arts) in Perugia. The sister cities alternate hosting artists each year for three-week residencies.
Hobaica, below, a native of Phoenix, received a BFA from Syracuse University, N.Y., and an MFA in sculptural conceptions/ceramics from the College of Fine Arts in Linz, Austria.