Italian film and aperitivo June 3
The Seattle International Film Festival is in full swing. Six Italian films are featured this year, ranging from comedy to thrillers to a documentary on dance. Most films are shown multiple times at theaters around the area.
Each year, our sister city group sponsors one of the films. This year, the film is The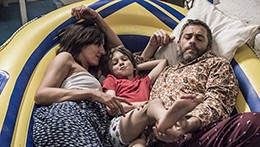 Truth About Love Is (La verità, vi spiego, sull'amore), based on the comedic memoirs of a divorced mom. The lighthearted slice-of- life tale centers around Dora, who enlists the help of her eccentric family, a free-spirited best friend and a charming poet-turned-nanny to help raise her two children.
The film will be shown at the SIFF Cinema Uptown on Seattle's Queen Anne on Sat., June 3 at 6 p.m. Get tickets here.
As an added treat, director Max Croci is scheduled to attend the June 3 screening.
We've arranged a table at Triumph Bar from 4 to 6 p.m. for our members to meet before to the screening. Join us for
un aperitivo
before the film and meet fellow members.
Triumph Bar
is at 114 Republican Street, only a few blocks from the Uptown. Look for us there.
Other Italian films at this year's festival are:
7 Minutes: A social thriller that takes place during a tense meeting of textile factory worker representatives.
Feather: A breezy comedy of impending adulthood for two high-school lovers.
Ears: Alessandro Aronadio's and-white tragicomedy that begins when a man wakes up with an annoying ringing sound in his ears and discovers a cryptic note on his fridge.
I was a Dreamer: A hardened ex-con returns to his working-class Rome suburb with a dream of improving his family's life.
Roberto Bolle -- The Art of Dance: A documentary featuring a behind-the-scenes look at one of the premier male ballet dancers and his hand-picked troupe.
Get complete film information, see previews and checks film schedules at
the SIFF website.