Look for our booth at Festa Italiana this weekend
Our sister city group will have a booth at Fisher Hall this weekend (Sept. 23 and 24) as part of Festa Italiana. Be sure to stop by, say hi and buy your raffle tickets.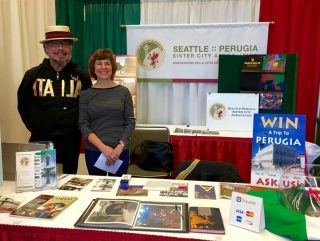 Festa will be extra-special this year, as it celebrates its 30th anniversary. Headliners for both days include opera tenor Aaron Caruso (hmmm, why does that name sound familiar?) and internet cooking sensation, Rossella Rago, who stars in the popular Cooking with Nonna show and has just published a cookbook with the same title.
On Friday, Sept. 22, you will find several board members at the "Taste of Italy." This lively wine tasting starts at 7 p.m. at Seattle Center, and includes music by Danny Quintero and a fantastic spread catered by Big John's PFI. Not to mention wine! Tickets are $25 per person for the Friday night wine tasting.
Check out the activities and schedule at the Festa website.