May 22 members event featured Marialucia Luongo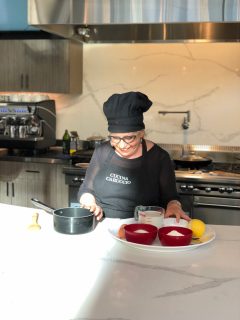 About 20 Seattle Perugia Sister City and Il Punto members joined Marialucia Luongo at our May 22 event at Caruccio's Culinary Event Center on Mercer Island.
Luongo, a journalist and teacher, is originally from Naples but has lived in Perugia for 23 years. At the event, she shared her passion for food with our group, bringing a little piece of Italy to the Pacific Northwest. We learned more about each dish served, its ingredients and how to prepare it.
Thank you, Marialucia!