Meet former Perugia mayor at Feb. 17 event
Many of you know that 2018 marks the 25th anniversary of our sister city friendship with Perugia. We hope you can join us on Saturday, Feb. 17 at 10 a.m. to kick-off a year of celebration and remembrance.
That morning, former Perugia mayor Mario Valentini will be at Caffe Umbria in Pioneer Square to meet with our members and friends. Born and raised in Perugia, Valentini served as mayor from 1990 to 1995. In support of the sister city arrangement, Valentini traveled to Seattle to sign the first sister city agreement with former Seattle mayor Norm Rice. Since then, he's kept in contact with many people involved in the sister cities on both continents.
Valentini worked for many years in the Regione dell'Umbria, where he was head of environmental planning. Today he is president of the Fortebraccio Association, a sports and community club. He is the author of three books, enjoys gardening and cooking, and is an avid hiker and skier. He is also the father of board member Elisabetta, shown with her father in the beautiful countryside outside Perugia.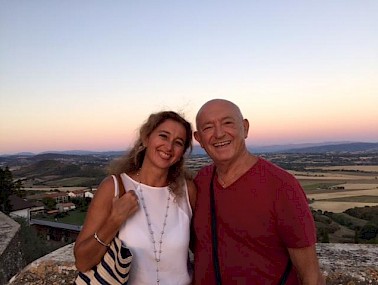 This is a no-host event and open to all members. No RSVP is needed.
We are currently planning other anniversary events that will take place in both Seattle and Perugia. Watch for upcoming issues of Il Grifone or check in on Facebook to get complete details as they become available.
Date: Saturday, Feb. 17, 10 a.m. - 11:30 a.m.
Location:
Caffe Umbria
, 320 Occidental Avenue S, Pioneer Square