Members and board enjoy tour of Umbra Cuscinetti
On a rainy Friday afternoon, a group of 10 SPSCA members took a behind-the-scenes guided tour of Umbra Cuscinetti, an Italian manufacturer of aircraft components that has a plant in Everett, Wash.
Umbra Cuscinetti is the U.S. affiliate of the Italian aerospace firm, Umbra Group, headquartered in Foligno, outside Perugia. The company is a long-time supporter of SPSCA.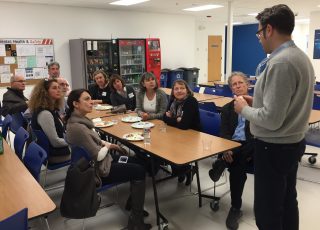 Umbra first moved to the Pacific Northwest in 1999, and in 2013, the company purchased and remodeled its current 68,000-square foot manufacturing plant. The company's 115 employees work on aircraft components primarily for Boeing's 777 and 787 aircraft.
While our members enjoyed a delicious aperitivo of meats, cheeses, fruit and assorted breads, Umbra Cuscinetti's president Leonardo Baldaccini (above) spoke about the company's history and his family's role in it. "When we bought the company, Umbra was doing about $3 million to $4 million a year," said Baldaccini. "This year, we expect to do about $170 million worth of business."
Baldaccini, whose family is from Cannara, Italy, says aircraft manufacturing is in his blood. "I was working in the shop in Foligno when I was six," he said. Umbra is currently expanding its product development capability and hopes to bring new products to market in the future.