Migration Artwork to Perugia: Please help!
A letter from our SPSCA Board member, Roberta Torgenson:
Carissimi amici,
Please help us ship the Migration artwork to Perugia!
Aiutaci a portare le opere d'arte in Italia!
After several years of planning and preparation, we are excited about the quickly-approaching opening of the Migration Project exhibit on Saturday, September 3, 2022 at the Museo della Penna in Perugia, Italy, a joint endeavor supported by the Seattle-Perugia and Perugia-Seattle Sister City Associations, the City of Perugia, and the Palazzo della Penna Museo of Perugia.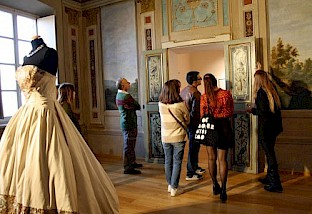 We are sending five carefully selected and renowned Seattle artists to Perugia to exhibit their artwork alongside five accomplished Perugini artists. The artwork has been created and is ready to be packed and shipped to Italy.
As we recently began preparing the artwork shipment, we learned that our shipping sponsorship had fallen through. Subsequent to that, our research of international shipping options revealed how difficult and costly it is in this moment of ongoing impacts from the pandemic, constantly rising gas prices, and general inflation worldwide.
Now that we have all of the specifications from the artists regarding the number, size and weight of their art pieces, we face a new fundraising shortfall of about $14,500 due to the shipping costs we will now incur. This is the difference between the total updated budgeted expenses of $44, 500 and the $30,000 already raised. We are so grateful for the funds already donated. Without your tremendous help, we would not have made it this far. But now, we need additional financial support. Please help us reach this new goal.
The Migration Exhibit runs from Saturday, September 3 to Sunday, October 9, 2022. The artists will be present at the opening on Saturday, September 3. We hope you will consider traveling to Perugia yourself to see these different artistic interpretations of Migration in media ranging from light installations to paintings and sculpture!
Thank you very much for considering a contribution. Donations of any size are welcome. Time is limited as the items will be shipped at the beginning of August. We appreciate your consideration of this urgent request.
For more information and to make a donation please click on the link below.