Perugia to learn more about Coast Salish tribes

Association members Marylin Bard and Cynthia Updegrave, lecturer in the American Indian Studies Program at the University of Washington, will be traveling to Perugia in September to continue their educational outreach efforts with students and local residents about the tribes of the Pacific Northwest. Bard and Updegrave will make presentations at several locations in Perugia, including Circolo Amerindiano, San Matteo degli Armeni Library, Academy of Fine Arts and two schools.
There will also be events staged at the Sister Orca sculpture. This original sculpture by well-known local Native artist Marvin Oliver was installed in 2008 as a tangible reminder of our sister city friendship. The large bronze sculpture of an orca fin is on permanent exhibit at Porto Nova, one of the gateways to the city of Perugia, where it's viewed by thousands each year.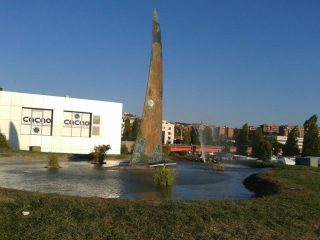 Activities are being supported and promoted by the City of Perugia and its Office of International Relations. The event, called "Hands Up! Hands Up! We are the People of Chief Seattle," runs from Sept. 13-29. This amazing full-color poster (left) is on display at locations around Perugia.