Piazza Perugia to become a reality
Our long-time members know we've worked for years to find suitable park space that could be dedicated to our sister city relationship. We are pleased to announce that our hard work is paying off.
Thanks to the commitment of Mayor Ed Murray and former board president Mike James, Piazza Perugia will become a reality in 2017.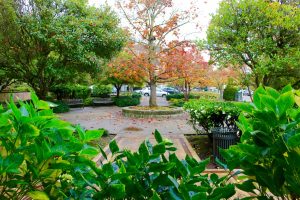 A section of Julia Lee's Park, located at East Harrison Street and Marin Luther King Way S, in Madison Valley, has been designated Piazza Perugia. We have commissioned L'Antica Deruta, a ceramics studio outside Perugia under the artistic director of Giorgio Moretti, to create ceramic art for the circulate bench at the center of the Piazza. The Moretti work will incorporate traditional Umbrian designs, including the Perugino griffin (an ancient symbol of the city and used in our sister city logo).
There will be a dedication ceremony later this year. Details to be announced, so check this blog as well as our Facebook page for details when they become available.