Raffle tickets available at Aug. 13 picnic
Now you have one more reason to attend this year's Members' Picnic and Meeting. Raffle tickets have been printed and will be available for sale. At $5 per ticket, it is certainly one the area's best raffle deals.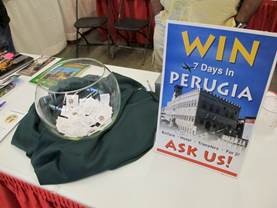 The grand prize winner wins round-trip airfare to Rome for two (not to exceed $1,350 round-trip per ticket); a week's stay for two at a historic hotel in Perugia's city center, and transfers between Rome and Perugia.
This year, there's an extra bonus for the winner: A four-hour Taste Perugia food tour! This cultural experience takes you behind-the-scenes to a variety of tasting locations in historic Perugia, including a chocolate shop, spice merchant, wine shop, gelateria and more!
The drawing will be held the last night of Cinema Italian Style in November. Read the small print here.
Second and third place raffle prizes will be a selection of Italian wine and a five-week Italian language course, donated by Seattle's premiere Italian language school, Percorso Italiano.
We thank this year's raffle sponsors, Taste Perugia Food Tour and Percorso Italiano.
This year's picnic is on Aug. 13 from 1 p.m. to 5 p.m. The address is: 33801 SE Courtney Road, Ravensdale, WA 98051. More information in the newsletter and on previous posts. See you there!