Report from Perugia: Il dodicesimo Uomo -- the 12th Man
Scholarship recipient Jen Provenzano is enjoying her third week in Perugia, attending the famed Universita per Stranieri. Read on to get her take on a recent soccer game in Perugia:
"At yesterday's game against Frosinone, a city southeast of Rome, there were few children and more drunken amped-up young men in scarves, although some were hyped up on caffe -- the only concessions vendor allowed into the stands was selling little espresso cups.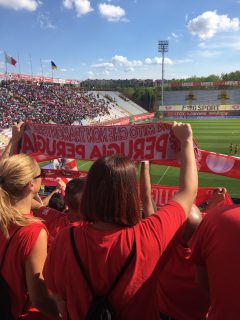 Coming from Seattle and Seahawk territory, I had to check it out. Perugia is part of the "B Series" teams and they're one of the best. (The "A Series" includes teams from Milan, Rome, Verona, Bologna, etc.) The Seahawks is famous for its 12th Man;" during play, teams are allowed a maximum of 11 players, so the 12th Man signifies the fans, so loud that they influence play in the stadium. Soccer has a similar rule of number of players, and there was definitely a 12th Man present yesterday in Perugia.
Attending with a classmate from England and some very entertaining ex-pats living in Perugia, we kept saying it felt like a religious experience, that we were in a chiesa. Everyone around us had rehearsed chants that seemed to spring up out of nowhere in unison (nothing like "the wave" that can take 20 minutes to get going in American sports stadiums).
There were call-and-response chants to the opposing team's fans on the other side of the stadium. Many insulting phrases hurled. Their 12th Man never left the field. It was just as much fun watching the fans as it was the players. There's also something to be said about their game clock, which counted up instead of down as they do in the States…it felt as though we were working up to a crescendo rather than counting down to the end. And no scoreboard, you had to be paying attention…but there's no way to miss it when we win, and that we did yesterday!"