Second-graders in Perugia and Seattle learn more about each other's history
SPSCA has an exciting educational outreach project underway developed by board member Marylin Bard. The project is focused on building awareness and fostering a greater understanding between diverse cultures, histories and geographic regions. Participants are second-graders at Collodi Elementary in Perugia and the John Stanford International School in Seattle.
Last fall, Bard explored Northwest Coast Native American history with students at Perugia's Collodi Elementary. She shared stories, songs and legends and allowed the children to examine miniature Native objects created just for this project, such as baskets and wood carvings.
She also talked about the significance of Sister Orca, a 26-foot bronze orca fin created by well-known local Native artist Marvin Oliver, who is also Bard's brother. SIster Orca was installed in Perugia nine years ago as a symbol of our sister-city friendship.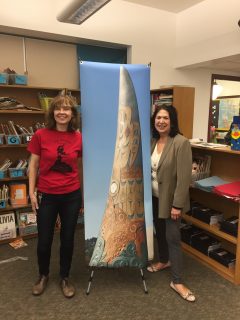 In Seattle, John Stanford second-grade teacher Karol Franz (left, shown with Bard who is holding an image of Sister Orca) incorporated information about both sister cities into her social studies units.
The students looked at photos and talked about the similarities and differences between the cities. Both classes exchanged letters and drawings, helping each child to personalize the exchange.
Bard is returning to Perugia this fall to continue the educational outreach.