Sister City concert in Perugia was well-received
The April 23 concert in Perugia by Seattle pianist Angelo Rondello was a great success with about 85 people in attendance, including officials from the city. The concert was part of the Seattle Music Exchange which encourages the exchange of music and musicians from other cultures through concerts, residencies and educational programs. It was held at the Conservatorio Francesco Morlacchi.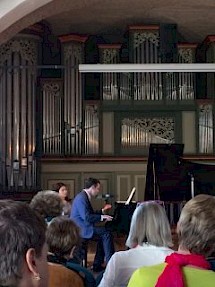 Rondello has selected four sister cities in which to kick off the sister city concerts. In addition to Perugia, the other concert locations are in Pècs, Hungary; Bergen, Norway; and Kobe, Japan. The exchange series closes with a recital of music by the sister city composers in Seattle's Nordstrom Hall on May 11.
Grazie mille to our colleagues and friends in Perugia for their very warm welcome and help with making this concert such a success.