Teaching the teachers: SPSCA helps with English proficiency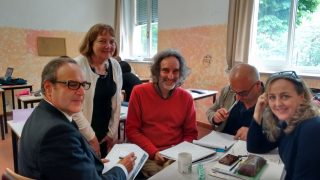 Recently Italy passed a rule requiring that high school seniors must take one of their subject matter classes in English. The problem is that the English language skills of the subject matter teachers are not strong enough to teach a class entirely in English.
Seattle-Perugia to the rescue! Leslie Keller, SPSCA president, and Jo Ellen Hathaway, a teacher at Seattle's Roosevelt High School, spent three weeks in May helping 24 teachers at Perugia's Scientific High School Galileo Galilei improve their English.
The lessons focused on listening, speaking and pronunciation. Fifty-minute morning sessions, devoted primarily to listening, involved smaller groups of teachers who all taught the same subject. In the afternoons, a combined three-hour class with all the teachers included a variety of fun activities focused on pronunciation, listening and speaking.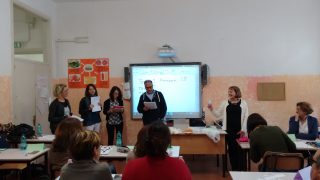 It was a very rewarding project for the two Seattle volunteers. "One of the most heartfelt experiences came during a listening activity that included Simon and Garfunkel's song, Bridge Over Troubled Water," said Keller. "After reviewing the lyrics and discussing their meaning, the teachers sang the entire song in unison, not once but three times, at full voice and with heartfelt emotion. After the first rendition, Jo Ellen commented that teachers in Seattle would never sing so spontaneously in a large group like that. We were both moved to tears and were left with memories we will never forget."