Three museum exhibits in Italy cover topics from fashion to politics
If your travel plans this spring include Milan or Florence, you're in luck. Whether your interest is in politics or in fashion, you'll enjoy any of these recently opened exhibits.
In Milan at Fondazione Prada, you can view "Post Zang Turm Tuuum: Art Life Politics: Italia 1918-1943." The exhibit features more than 600 paintings, sculptures and design objects from Italy's Fascist era, by the likes of Giorgio di Chirico, Giorgio Morandi, Gino Severini and dozens of unknowns, displayed amid countless historical documents that map the rise and fall of the interwar art world. The exhibit will be on view through June 25.
In Florence, there is "Dawn of a Nation," through July 22 at Palazzo Strozzi. The New York Times calls it "a less ambitious exhibition" that offers a window onto Italian art amid postwar reconstruction. Unlike "Post Zang Tumb Tuuum," documentary material is displayed in an initial gallery where a newsreel montage takes us from the foundation of the republic in 1946 to the "dolce vita" of the 1960s.
Read more about both exhibits here.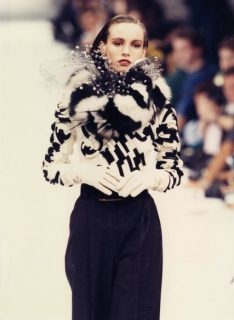 A more light-hearted exhibit, also in Milan, tells the history of Italy through its clothes. "Italiana: Italy Through the Lens of Fashion," unsurprisingly, opened as part of Fashion Week in Milan in late February.
The exhibition at Palazzo Reale runs through May 6. You can read more about the exhibit in this question-and-answer feature with the exhibit curators that appeared in the New York Times.