Tickets on sale now for pizza and wine tasting Oct. 24
Purchase your tickets today for one of our most popular events: our annual wine tasting.
This year, there's a twist. We are combining the wine tasting with a pizza-making demonstration, and a delicious dinner at Tutta Bella Wallingford.
The evening starts at 6 p.m. on Oct. 24 with a special welcome by our experts: Tutta Bella ow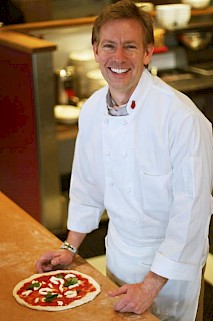 ner Joe Fugere and wine specialist Gianfranco D'Aniello of Dalla Terra Winery. The event will end about 9 p.m.
We'll explore ingredients unique to authentic Neapolitan pizza and then see the art of pizza-making demonstrated by Tutta Bella chefs. Founded in 2004, Tutta Bella was the first pizzeria in the Northwest certified by the Associazione Verace Pizza Napoletana, a rigorous process. Fugere (right) actually apprenticed under a pizzaiolo in Naples for a month, taking notes on the products they used and how they made their pizzas.
D'Aniello (below), born in Naples, started in the food and wine industry in 1991. For the past three years, he has been the regional manager for Dalla Terra Winery. Under his guidance, we'll compare and learn more about several outstanding Italian wines. We'll also enjoy appetizers generously provided by Tutta Bella. Featured wines will be available for purchase.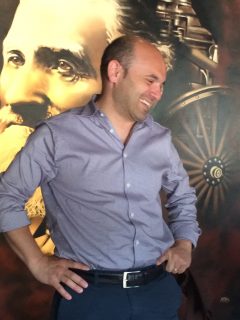 After the pizza-making and the wine-tasting, we eat! The menu consists of two different kinds of pizza and two different salads as well as dessert. One glass of wine is included with your ticket.
The cost of the evening, including taxes and tip, is $35/members and $40/nonmembers. Purchase your tickets on our website.
Because of space limitations, we must limit this event to 45 participants.
Tutta Bella is located in 4411 Stone Way N, Seattle 98103. There is a small on-site parking lot.