"Tourist Plus": Scholarship winner Jen Provenzano reports from Perugia
Member Jen Provenzano is in Perugia for the month of September, after being awarded a one-month scholarship to study at the Universita per Stranieri. Here is her second report from the field.
Want to study in Perugia like Jen? Apply for a 2018 sister city scholarship. Application deadline is Oct. 31. Learn more here.
"I recently asked the owner of my favorite caffé close to Piazza Danti in Perugia what makes a good tourist. She said first, they have to be polite, and second, it's nice when they try the language, even if it's just 20 words.. I've been thinking of this concept a lot after arriving in Perugia two weeks ago. And since Perugia is so centrally located, it was a breeze to get on a train and visit Florence and Pisa this past weekend. Getting a taxi at the train station to the leaning Tower in Pisa, the driver didn't even ask me where I wanted to go, she just said, "Andiamo!"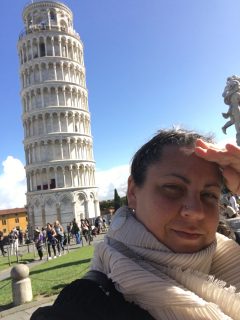 I wanted to engage a bit more, so I explained (in Italian) that I naturally wanted to go to the Tower, but I asked her if she lived in Pisa. "Si, vicino," she said and smiled, explaining she liked going along the Arno River downtown and some other local places. She said tourists aren't always nice, but it's her job.
I decided to I wanted to be a "tourist plus" or "turista più," as I'm calling it. I want to be a respectful traveler to the locals, for aren't the locals the most authentic part of the trip? I applied this concept recently on a hunt for a scarf. I stopped into a lovely shop in Perugia where I exchanged greetings with the clerk. After a minute, I re-approached her, explaining in Italian that I am a student and was looking for a light summer scarf. She then started talking in a flurry of Italian and showed me a seemingly secret drawer where she pulled out scarves in different colors, explaining why one was better than the other. (I purchased a fantastic beige one, pictured.) I'm learning L'Universita is my local humble passport to live and travel as a "turista più"!"
Check back later to read Jen's next installment about her month in Perugia!