Beautiful tiles arrive in Seattle -- bound for Piazza Perugia
Only three weeks remain until the dedication of Piazza Perugia on Sat. Oct. 14 at 10 am. We hope all our members will join us at the dedication ceremony and related events. You'll meet our distinguished guests from Italy, rub elbows with our local Italian community, and get to know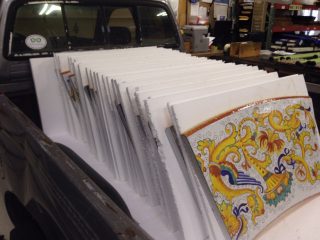 your fellow members better.
And, check out these amazing tiles that are being installed this week in the Piazza. After a slight delay in U.S. Customs, the tiles were delivered to Seattle recently and are being installed by Nadine Edelstein of Vashon Island.
The tiles were designed and fabricated by L'Antica Deruta, a ceramic arts studio outside Perugia, under the direction of Giorgio Moretti, who will be attending the opening festivities.
Piazza Perugia is part of Julia Lee's Park in Madison Valley, at East Harrison and Margin Luther King Jr. Way South. See you there!