Four members earn scholarships to study in Perugia
Four SPSCA members recently learned they received scholarships to study Italian at the historic Universita per Stranieri in Perugia. Awardees for 2018 are: Jennifer Clancy, Danielle Hayden, Carolyn Law and Cynthia Musto.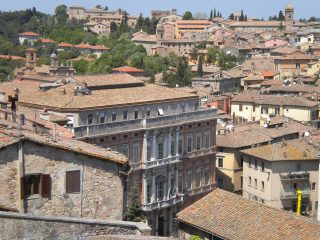 Each awardee brings her own talents and interests to Perugia. One recipient is a baker who had studied Italian in Siena in the past. Another is a retired doctor and third-generation Italian who has traveled to other parts of Italy but has never been to Perugia.
The third scholarship recipient is studying Italian at Bellevue College currently and the fourth, a visual artist, is married to an Italian and excited to work on improving her own language skills.
Each recipient receives one month of tuition, plus a stipend to help defray costs, such as apartment rental or travel. Two of the scholarships are funded by long-time sister city supporters: the Hans Lehmann Scholar and the Caffe Umbria Scholar. Thank you to both of our scholarship sponsors for their support!
This year, the committee received more than 20 applications by the Oct. 31 deadline. The top eight were interviewed and our group of four selected. Congratulations to all of them!
Make your new year's resolution early and look into applying for a scholarship for 2019. Find out more here.