Preview this year's Cinema Italian Style at free member event
Seattle-Perugia Sister City Association and Il Punto are co-sponsoring a special event for their members on Tuesday, Nov. 7 at the SIFF Film Center in Seattle.
In "A Walk through the Films of Cinema Italian Style 2017," Angelo Acerbi, SIFF Italian film programmer, will preview the Italian films selected for this year. The 2017 festival screenings include a provocative list--from the WWII black comedy "At War for Love" to the classic "Umberto D.," Vittorio De Sica's neorealist masterpiece. Acerbi's presentation will include film clips and trailers from several of this year's 16 featured films.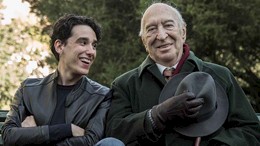 Our presenter: Angelo Acerbi has been a SIFF programmer since 2009. He has been programming other festivals since 1993, including the Torino Film Festival, Palm Springs Film Festival and Torino LGBT Film Festival. In 2011 he began programming Cinema Italian Style! here in Seattle. Angelo also works as a film producer and production manager for film commissions. He's currently employed as a film journalist for Fred Film Radio, a British Web radio focused on cinema and festivals, and works as a media partner at the Venice and Berlin Festivals as well as others.
Don't delay! Theater size is strictly limited to 90 guests.
DATE AND TIME: Tuesday, Nov. 7, 2017, 7:00 p.m. - 9:00 p.m.
LOCATION: SIFF Film Center, 305 Harrison Street, Seattle, WA 98109
COST: Free to SPSCA and Il Punto members; $5 for non-members (payable at door).